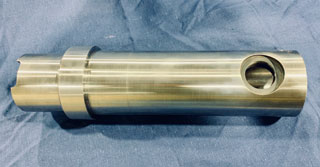 At Precision Tool Company, we have an extensive range of knowledge when it comes to shot end components, but the production of excellent standard shot sleeves is one of our main areas of expertise. For over forty years, we have been providing our die casting customers in North America with precision machined shot sleeves for all their project needs.
Our standard shot sleeves are second to none and are produced by our highly trained experts, providing the utmost quality and attention to detail. To learn more about our shot end component manufacturing, call us at 800-553-2023 or 314-721-2899 to speak with a customer service representative. To get started on your project, place your order today by submitting our specification form by email to shotsleeves@yahoo.com.
---
For proper form functionality, please use Adobe Acrobat Reader or Internet Explorer when viewing this form.
---
Excellence in Designing Standard Shot Sleeves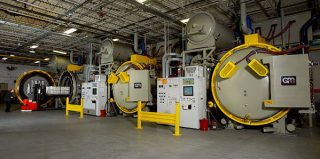 The main function of our standard shot sleeves is to hold liquid aluminum while it is being pushed into a mold by the plunger. Given this, it is critical that the shot sleeve is perfectly manufactured to allow the plunger to move smoothly through the shot sleeve. Our number one concern when designing shot sleeves is creating a heavy wall. A heavy wall, at least 1-1/2″ thick, helps to add strength and stability while also lessening potential deformation.
More characteristics that ensure performance and quality in our standard shot sleeves include:
Premium Quality Steel – Each standard shot sleeve is fabricated using H-13 tool steel that meets NADCA specifications. Using such high-quality steel helps to provide long product life and prevent unplanned machine downtime.
Heat Treating-Tooling is hardened in modern Vacuum Furnaces and quenched in nitrogen or air.  They are then tempered at 1100F, minimum of two draws.  We recommend a Rc hardness of 46-48 Rc for best toughness and strength.
Gas Nitriding – If specified by the Die Caster, our shot sleeves undergo a Gas Nitriding process that results in .010"-.012" minimum surface penetration, which helps extend tool life.
Precision Manufacturing and Design – By using cutting edge machinery and tooling processes, we can manufacture shot sleeves to a very high standard of excellence. We take care with every step of production.
Our Standard Shot Sleeves Help Prevent Failure
Thanks to our decades of industry experience, we know that the shot sleeve is one of the most important parts in the die casting process and that sometimes they break. The most common causes of shot sleeve failure are thermal fatigue, gross or large-scale cracking, erosion opposite the pour hole, and misalignment. We take extra precautions to build our standard shot sleeves to prevent such occurrences. By using techniques such as Gas Nitriding, and Water (or hot oil) Cooling, we can create a failure resistant product. We are proud of the long-life capabilities of our all our shot end components.
Submit Your Specifications for Your Shot Sleeve Manufacturing
As an industry leader, we are well known for our production of some of the best standard shot sleeves available. Call us at 800-553-2023 or 314-721-2899 to speak to one of our team members about how we can meet your shot end component manufacturing needs or send your specifications to us by email to order your standard shot sleeve components today!