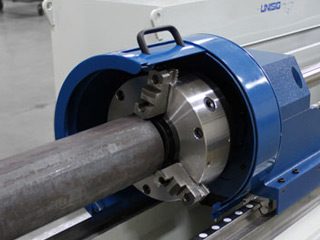 In the business since 1970, we have developed a reputation as a first-class tooling company. We offer a comprehensive range of services to help our customers get the high quality shot end components they need. As such, we are proud to offer deep hole drilling services to our customers. Like our other services, our deep hole drilling is done promptly and professionally and held to our very high standards. Our decades of experience are paired with our stellar customer service, which is what makes us one of the best in the business.
We have been creating satisfied customers in North America for over forty years, and our drilling and boring services are renowned for their quality and quick turnaround times.
If you need deep hole drilling services or have any questions about shot end component manufacturing, give us a call today. You can reach us at 800-553-2023 or 314-721-2899 to speak with one of our sales representatives.
Comprehensive Deep Hole Drilling Services
Precision Tool Company is the number one choice for all your precision machining and manufacturing needs. We have been providing top-quality services for many years and are proud to be leaders in our industry. We offer deep hole drilling services to help meet the needs of any of your projects. By using cutting edge equipment and a team of highly trained staff, we are able to quickly and professionally complete customer drilling orders to any precise specifications. Our precision drilling and boring techniques involve using high end tools that deliver pressurized coolant and cleanly remove chips.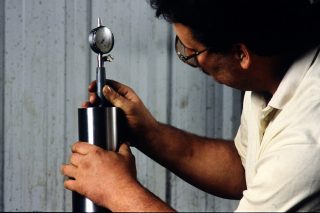 Our deep hole drilling services offer:
Superior Quality – Our deep hole drilling services are second to none. We offer tight diameter control, straightness, and a high-quality finish.
Expert Gun Drilling – We offer gun drilling services; however, our capabilities are limited to center holes in round material.
Inclusive ID Range – We can facilitate an internal diameter range from .1875" to 1.375".
Longest Overall Lengths – We offer OALs up to 48".
Consistent Quality in Gun Drilling Services
We here at Precision Tool Company put quality first. Our relentless dedication to ensuring customer satisfaction has led us to being known as leaders in the tooling industry. Whether it is deep hole drilling or honing die cast components, we ensure the highest quality. When it comes to deep hole and gun drilling, we use our decades of experience to achieve a fantastic end product that never fails to satisfy customers.
In Need of Deep Hole Drilling Services? Choose Precision Tool Company
We know how important precision is when it comes to shot end components, and we are here to ensure our customers get what they need for their tooling projects. The work we do is taken very seriously and we always put the customer first. We are leaders in shot end component manufacturing and deep hole drilling, and we pride ourselves on fast turnaround times and friendly service. To submit specifications for your project or to speak with a team member, please give us a call at 800-553-2023 or 314-721-2899 today.