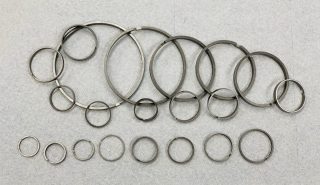 As a leading manufacturer of shot end components for die casting, Precision Tool Company has long been an industry leading supplier of quality, top-notch plunger rings. Our customers have a wide range of die casting needs, which is why we stock a large variety of plunger rings in standard inch and metric sizes. Our extensive inventory allows us to offer same day shipping to all of our clients.
We have a wealth of experience in our quality plunger rings, and can help you get the components you need quickly and with ease. If you would like a quote for any standard or custom components or have any questions regarding our shot end component manufacturing call 800-553-2023 or 314-721-2899 to speak with a staff member. To place an order, browse our selection of standard plunger ring sizes and options below and contact us by phone or email at shotsleeves@yahoo.com with  your needs.
Plunger Rings Stock List

For Hot Chamber Die Casting Machines
Made from Hardened & Tempered Type ASL 42 Stainless Steel
Precision Ground – Step Cut
OUTSIDE DIAMETER
WIDTH
PART NUMBER
1/2 (BC)
1/16
042B
3/4 (BC)
1/16
062B
7/8 (BC)
1/16
072B
3/4
1/16
073
1
1/8
104
1
3/16
106
1
3/32
103
1-1/8
3/16
107
1-1/4
3/16
105
1-1/4
3/32
123
1-1/4
1/8
124
1-1/4
1/4
128
1-3/8
3/16
136
1-1/2
3/16
146
1-1/2
1/4
148
1-5/8
3/16
156
1-5/8
1/4
158
1-3/4
3/16
166
1-3/4
1/4
168
1-7/8
3/16
169
1-7/8
1/4
170
2
1/4
208
2-1/4
1/4
228
2-1/2
1/4
248
2-3/4
1/4
268
3
1/4
308
3-1/4
1/4
328
3-1/2
1/4
348
3-3/4
1/4
368
4
1/4
408
4-1/4
1/4
428
4-1/2
1/4
448
4-3/4
1/4
468
5
1/4
508
25MM
6MM
25M
28MM
5MM
28M
30MM
5MM
30M
35MM
5MM
35M
40MM
5MM
40M
42MM
5MM
42M
45MM
4MM
45M
50MM
6MM
50M
55MM
6MM
55M
60MM
6MM
60M
65MM
6MM
65M
80MM
6MM
80M
---
Choose Precision Tool Company for High Quality Plunger Rings
Our plunger rings are specifically designed and crafted to be used for hot chamber die casting and are available in an array of sizes. We make each ring from high performance ASL 42 stainless steel. By using this excellent grade of steel, our plunger rings provide strength, wear resistance, and reliability. We offer the highest quality rings in the industry.
Additional features of our outstanding plunger rings include:
Heat Treated for Durability – Each of our rings are heat treated in order to obtain a hardness of 45-52 Rc. This heat treatment process makes our rings tough and wear resistant.
High Grade Steel – We utilize a grade of stainless steel that is higher in carbon and chrome than type 420 stainless. This steel has molybdenum and vanadium added to it in order to provide a longer life than type 420.
Superior Design – All our rings are crafted from rolled flat wire, which is cut to order length and then formed. Doing this helps to enhance the circumferential properties of the ring. Additionally, this process yields a completely burr free ring with smooth edges.
Providing Excellence in Plunger Rings and Shot End Components
Here at Precision Tool Company, we have been a supplier of plunger rings and other shot end components since 1970. We are proud to be recognized as one of the top leading suppliers for tooling and die casting components. As a company, we believe the devil is in the details, which is why we take such great care during all of our manufacturing processes. Providing the absolute highest quality is our number one priority, from plunger rings to threaded shot sleeves, we maintain rigorous standards.
Order Our Plunger Rings and Other Products
We here at Precision Tool Company are well known for our high level of customer service and satisfaction. We have a highly trained and professional team of staff members that are available to answer any questions you have about shot end component manufacturing. Call us at 800-553-2023 or 314-721-2899 today to speak with a team member or if you would like to place an order, submit one of our customer specification forms by email. We look forward to helping you source the custom shot end components you need.