Over time, shot sleeves and other components of the die casting process can wear down. At Precision Tool, we offer shot sleeve reconditioning services to help you extend the life of your die casting tools. We have years of experience in reworking shot sleeves and other shot end components in order to help our customers substantially reduce their tooling costs. We are proud to lead in the industry in shot sleeve reconditioning.
Our depth of industry knowledge and expertise combined with cutting edge equipment and methods results in highly successful shot sleeve reconditioning, well known throughout the United States, Canada, and Mexico.
If you need shot sleeve reworking services or any other shot end component manufacturing services, don't hesitate to call us at 800-553-2023 or 314-721-2899 today. Our team of knowledgeable staff can answer any questions you may have and help you with your next project.
Our Shot Sleeve Reconditioning Service Helps You Save
When undertaking a die casting project, tooling costs are usually quite substantial. By choosing Precision Tool Company for shot sleeve reconditioning, you can significantly reduce tooling costs while ensuring quality components. Our process for reconditioning shot sleeves is thorough and reliable. We can repair all manner of wear and tear, such as excessive erosion opposite the pour hole. We carefully rework and inspect each shot sleeve we receive.
Our shot sleeve reconditioning capabilities include:
Quick Turnaround Times – At Precision Tool, we can rework your shot sleeves to the ID size you require in just 7-10 days.  This is thanks to our expertly trained technicians.
Thorough Inspection – Shot sleeves we receive can be ultrasonically checked, especially near the pour hole, to establish depth of ID washout opposite the Pour Hole.
Precise Specifications – We can rework shot sleeves to a minimum clean-up size or to the exact increment required by the customer.
Boring, Grinding, and Honing – All reworked shot sleeves inner diameters are initially bored out. Then ID's are bored and machine ground to within .0005 inches. This is done because just honing will not correct a bowed shot sleeve and can often create an eccentricity of the ID and OD. The reworked shot sleeves are finally honed to an 8-12 RMS finish, ensuring a superior product.
Gas Nitriding – After the process of reconditioning shot sleeves, we polish IDs and use gas nitriding if required.
Tool Tagging – We ensure that all tooling is tagged with a new ID size for our customer's convenience.
Why Choose Precision Tool for Your Shot Sleeve Reworking?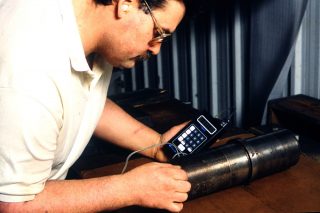 Having been in the industry since 1970, we at Precision Tool have a comprehensive knowledge of the process of manufacturing shot sleeves and other shot end components. This makes us experts in shot sleeve reconditioning. We take the necessary steps to ensure that the integrity of each reconditioned shot sleeve is intact and that our customers receive high-quality service. We pride ourselves on our ability to extend the lives of our customer's shot sleeves while ensuring a superior product.
Contact for Your Shot Sleeve Reconditioning Project
As an industry leader, we have a reputation for providing some of the best services for shot end components in the die casting industry, and Precision Tool can help with any of your shot sleeve reconditioning requirements. For any questions you may have about shot end component manufacturing or to get started on your project, please give us a call at 800-553-2023 or 314-721-2899 today.