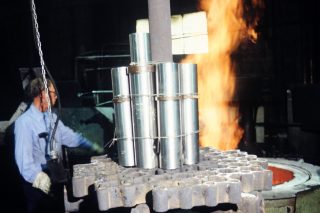 Here at Precision Tool Company, we are proud to be known for providing excellence in shot sleeve production. We have been exceeding the expectations of our North American customers since 1970. All of our employees are experts in producing different types of shot sleeves and tooling in order to meet the exact specifications of our customers.
When it comes to the needs of our customers, we are experts in the shot sleeve design and production process. Send us your specifications today or give us a call at 800-553-2023 or 314-721-2899 to speak to one our customer representatives about our shot end component manufacturing services.
Providing Excellence in Shot Sleeve Variety & Manufacturing
As an internationally renowned company, we understand the varied needs of our customers. Decades of experience in shot sleeve production has given us the skills to produce different shot sleeves that can be tailored to our client's precise specifications. All of our shot sleeves are made from H-13 tool steel that meets premium specifications such as NADCA standard #207-90.
Some of the different types of shot sleeves we can manufacture include:
Standard Shot Sleeves – Our advanced manufacturing techniques and high-quality H-13 tool steel produce outstanding standard shot sleeves, a crucial element in the die cast process. Our standard shot sleeves allow for maximum productivity and operating life.
Grooved Shot Sleeves – Our grooved shot sleeves design is applicable to a wide variety of dies. We machine two to five incrementally spaced square grooves into the sleeve wall. Then a split collar is clamped in the necessary groove. This collar is always made of heat treat 4150 steel.
Threaded Shot Sleeves – Our threaded shot sleeve is a variation of our grooved design. The difference here is an infinite number of possible settings from die end to collar. We use acme threads in order to achieve the best possible strength.
A Glance at Our Shot Sleeve Manufacturing Process
As soon as we receive your order, we begin working on it within one business day to ensure quick turnaround and service. We cut a steel blank based on your specifications, and then transfer it to our square head turret lathe for rough boring. Once the rough boring is complete, the shot sleeve is faced, and the OD gets rough turned to within 0.080 inches. We then complete mill work including pour hole, gates, and runners. Then the sleeves are sent to receive our top of the line heat treatment.
At Precision Tool Company, all of our shot sleeves are hardened using a vacuum furnace. First, the furnace is preheated to 1550 F, and then the temperature is brought to 1850 F. This temperature is held for one hour per each inch of cross section. Afterwards, the sleeves are cooled using air or nitrogen and immediately tempered at 1100F. This process successfully provides a hardness of 48-51 Rc. To ensure maximum durability, a second temper is always performed. This helps to lower the hardness to 46-48Rc. The tooling is then stamped on the face of the Pour Hole end for easy identification and traceability.
After the Heat Treating process is complete, Finish Machining is performed. This is where Precision Tool Company differs from other manufacturers of Shot Sleeves. ODs and IDs are ground to finish size. We have found this to be a 'must' for optimum concentricity of the tool, obtaining excellent surface finishes and perfect alignment in the Die Cast machine during operation.
Gas Nitriding is a good way of extending tool life.  After Finish Machining, we Gas Nitride the tooling if it is specified.  Our case depth is a minimum of .010-.012" deep.
Upon completion, all tooling goes thru our inspection department for dimensional accuracy.
All tooling is shipped in a secure manner.
Contact Us for Your Shot Sleeve Manufacturing Project
At Precision Tool Company, we understand that each customer has different needs for shot end component manufacturing. Our knowledgeable staff of men and women take great pride in their work and represent our commitment to quality with every single job. Call 800-553-2023 or 314-721-2899 to get started on your project or to speak with a team member today!