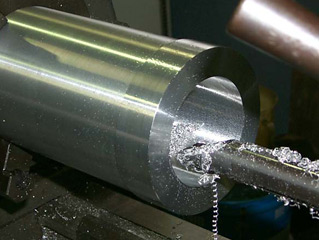 Here at Precision Tool Company, we have been in the industry since 1970, and we are truly proud to be known as the preeminent drilling and shot sleeve manufacturer in North America. From large capacity drilling and boring to shot sleeve manufacturing, our state-of-the-art facilities help our customers achieve all of their die casting needs. Our exemplary staff has a wealth of knowledge and can provide quick turnaround times for all our large capacity drilling orders. At Precision Tool, excellence is our standard in everything we do, and we are proud to be leaders in our industry.
The stellar reputation we have developed comes not only from our skill and knowledge, but also from our focus on customer service. We put our customers first in all our projects. We are here to meet your large capacity drilling needs.
To request our drilling and boring services or to speak with someone about our shot end component manufacturing services, please give us a call at 800-553-2023 or 314-721-2899. We look forward to serving you!
Outstanding Large Capacity Drilling Services
We are proud to offer a variety of different products and services to suit the die casting needs of our customers. Whether it is manufacturing cooling saddles for shot sleeves or providing ID grinding services, we are known as one of the best in the business. Large capacity drilling is one of our most popular services. We are a trusted source for your large capacity boring and drilling needs. Our skilled employees utilize our high-end drilling equipment to offer a wide range of drill sizes and lengths, which helps us offer fast order turnaround times.
Our drilling and boring capabilities boast:
Variety of Sizes – Our cutting-edge facilities and equipment allow us to offer a range of holes sizes that can be drilled to precise specifications. Our hole size capabilities range from 1.500" to 20.000".
Speed and Quality – Our extensive industry experience allows us to offer large capacity drilling with quick turnaround times without sacrificing quality.
Variety of Lengths – We offer OALs of 48-60" for an OD max of 12.75". For all ODs over 12.75", we can do 10-16" max OALs (22.00" max OD).
Customer Focused, Reliable Drilling & Boring Services
Part of the reason Precision Tool has grown to become an industry leader is because of our dedication to customer satisfaction. We have a deep commitment to our customers and do everything in our power to ensure our products reflect that. Whether you are looking for shot sleeve manufacturing or large capacity drilling services, Precision Tool is here to help with every aspect.
Choose Precision Tool for Your Large Capacity Drilling Needs
If you are in the market for large capacity drilling & boring, look no further than Precision Tool Company. With almost 50 years of experience, we provide dependable, high-quality services. If you would like to speak with someone about our drilling services or shot end component manufacturing, do not hesitate to give us a call today at 800-553-2023 or 314-721-2899.