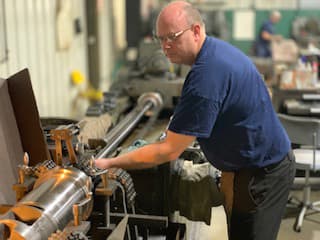 At Precision Tool Company, we are proud to be renowned as leaders in the manufacture of shot end components for aluminum, magnesium, and zinc die casting. Since 1970, we have been providing outstanding services and products to die casting customers throughout North America. We are a friendly, service focused company that is committed to product excellence and quick turnaround times. We are continually striving to improve the production of shot end components and lead the way in new materials and designs.
If you have any questions about shot end component manufacturing or any of our other products and services or would like to request a quote, submit your specifications on one of our online forms or give us a call at 800-553-2023 or 314-721-2899.
A Trusted and Reliable Source for Shot End Components
For over forty years, Precision Tool Company has been building the best quality tooling in the industry. Our shot end components and accessories are second to none in their quality. Our ability to provide reliable, expert services that meet the needs of our customers has allowed us to become regarded as a leading shot sleeve manufacturer in North America.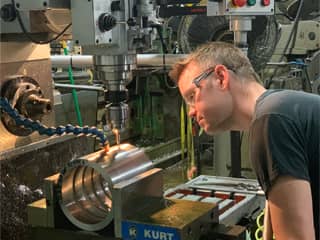 When it comes to outstanding shot end components, our product capabilities include manufacturing:
Shot Sleeves – We have years of expertise in all areas of shot sleeve production. From standard to threaded and grooved shot sleeves, we are competent and capable from start to finish. We cover all aspects, such as shot sleeve trouble shooting, heat treating, and nitriding, as well as shot sleeve performance and design. Here at Precision Tool Company, we are experts in shot sleeve manufacturing.
Plunger Rods, Plunger Rings, and Plunger Tips – When it comes to die-casting plunger rods, rings, and tips, using the best materials helps to ensure a reliable and quality final product. All of our plunger rods, rings, and tips are crafted from high quality heat-treated steel.
Cooling Saddles – At Precision Tool Company, we specialize in manufacturing custom cooling saddles for shot sleeves. Our skilled employees are adept at meeting all customer needs for cooling saddles.
Nozzles and Noses – All our die casting nozzles and noses are manufactured from H-13 tool steel and can be made to fit customer measurements and specifications precisely.
Why Choose Precision Tool Company for Shot End Components?
At Precision Tool Company, we have over four decades worth of experience manufacturing shot end components for customers all across the United States, Mexico, and Canada. In addition to our wide range of high-quality products, we offer top tier services such as deep hole drilling, OD & ID grinding, and die cast tooling. At Precision Tool Company, we stand by our products and services and always strive for the very best in customer service and satisfaction. We aim to exceed customer expectations with every single job we do. When it comes to shot end components, Precision Tool Company is the industry leader.
Contact Precision Tool Company for the Best Shot End Components
Regardless of the shot end component manufacturing needs you have, we are happy and ready to help. Call 800-553-2023 or 314-721-2899 to speak with one of our expert employees today!