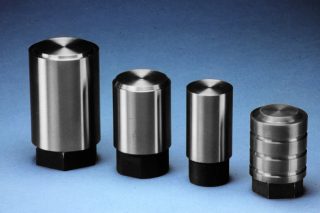 At Precision Tool Company, we have been in the business of manufacturing plunger tips for die casting machines since 1970. Using the highest quality materials, we craft an excellent product to the customized specifications of our customers. Our plunger tips for die casting machines are renowned for their exceptionally long life, particularly when combined with lubrication and proper alignment. Creating reliable plunger tips is something we take seriously. At Precision Tool Company, we are proud to be leaders in the shot end component industry.
When it comes to purchasing components for your project needs, our plunger tips for die casting machines are second to none. To order our plunger tips or if you have a question about shot end component manufacturing, please give us a call at 800-553-2023 or 314-721-2899. To place your order online, submit our custom specification form to shotsleeves@yahoo.com.
---
For proper form functionality, please use Adobe Acrobat Reader or Internet Explorer when viewing this form.
---
Excellence in Designing & Manufacturing Plunger Tips
Having a high-quality plunger tip is an essential part of any die casting process. The process is hard on the components involved and you require durability and reliability. With this in mind, we craft some of the best plunger tips for die casting machines in North America. Our expertly trained and experienced staff go the extra mile to meet the needs of our customers and create a fantastic product.
Some premium design features of our plunger tips for die casting machines include:
Choice of Material – We offer plunger tips manufactured from H-13 tool steel.  H-13 tips are heat treated to a hardness of 46-48 Rc during the heat treating process.  They may also be Gas Nitrided, which helps to give a longer product life.
Cooling Chamber – All our plunger tips are designed to be used with an adequate cooling chamber and have a .100-inch radius in all corners of the ID. This helps to lessen the chances of fatigue and cracking.
Good Water Flow – We machine a counterbore on the ID behind the threaded area on our plunger tips. This helps to ensure good water flow. Water temperature should be about 65° at 50 psi pressure and should be monitored.
Precision Tool Company is Number One for Die Casting Machine Plunger Tips
For years, we have been designing and producing outstanding plunger tips for die casting machines for our customers across the United States, Canada, and Mexico. We are proud to say that our plunger tips are well known for their quality and toughness. All of our staff members take pride in the work they do and strive to create the best products around.
Choose Precision Tool Company for Plunger Tips for Die Casting Machines
Our customers have unique requirements for their projects. We are here to meet those needs and provide a great product, stellar services, and on-time delivery. We are the leaders in shot end component manufacturing and are here to help. Call us at 800-553-2023 or 314-721-2899 or place an online order by submitting our plunger tip specification form today.